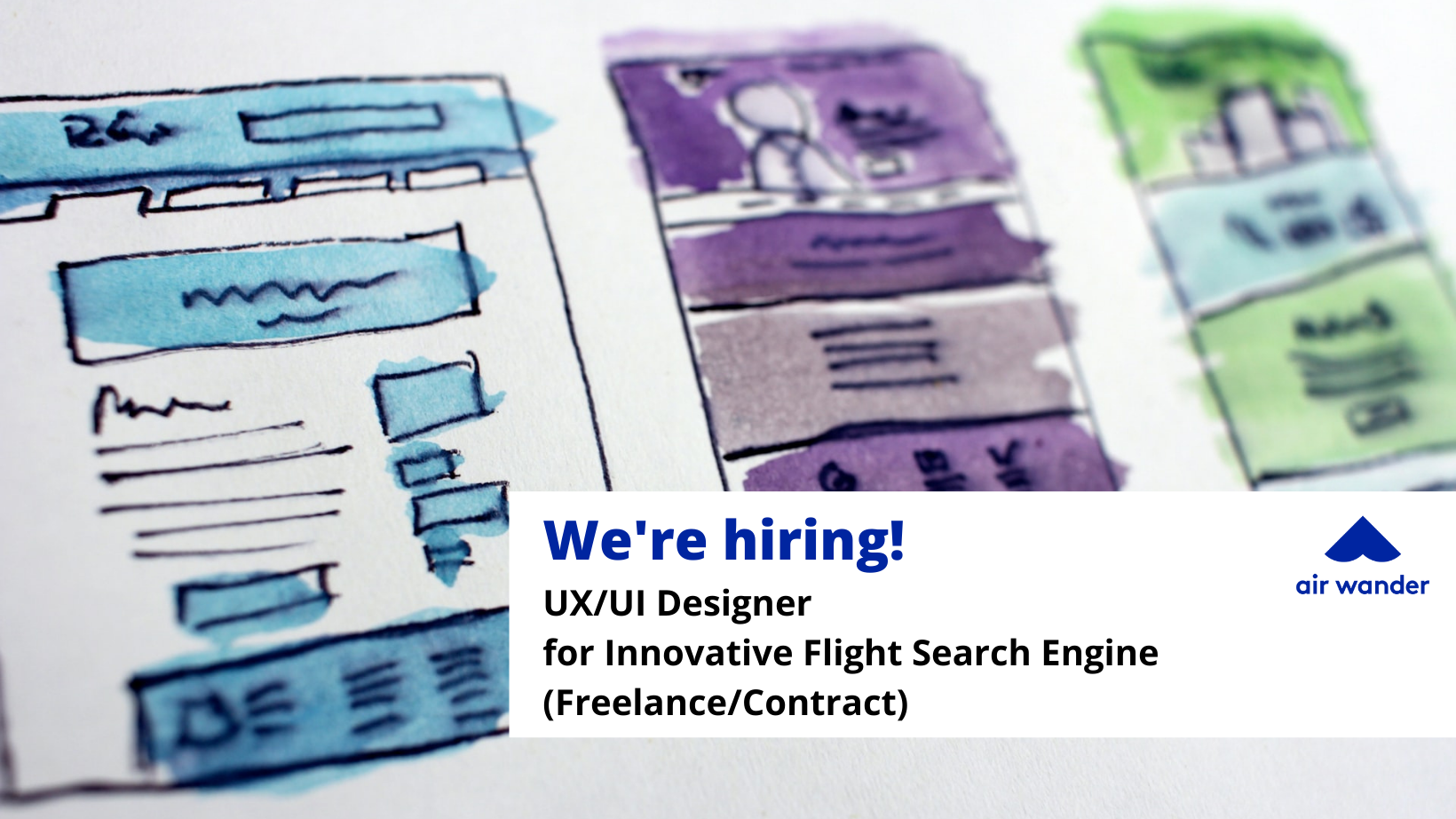 About us
Airwander.com is a flight search engine that, on top of usual functionalities, optimizes your trip by finding cheap places to visit on the way to your planned destination. The company was founded in 2014. While we're a small team, we are based all over the world and your work as a UX/UI Designer will have a significant impact on our final product. You'll get to work with our CEO, too!
Who are we looking for?
We're looking for an emphatic and creative UX/UI Designer to join in on the project of re-inventing the flight metasearch website (fully remote).
What are we creating?
We're creating our 4th version of Airwander and looking for a creative mind to join us in transforming the way people travel. This will be a single project to invent the design for the upgraded Airwander. If you feel that you're up to the challenge, welcome onboard!
Your responsibilities as a UX/UI Designer will include
➙ designing a theme for an entire flight search engine (layout, user flows, colors, fonts, images, graphic UI elements, etc.) in accordance with customer expectations & detailed requirements synthesized from user research data
➙ creating a prototype of a metasearch engine for desktop and mobile responsive versions (5 primary pages + sub-pages)
➙ identifying and troubleshooting UX problems (e.g. responsiveness)
➙ working with the existing brand image of Airwander while improving upon visual aspects
You'll be a perfect fit if you have
✔️ 3+ years of experience as a UX/UI Designer
✔️ an extensive portfolio of design projects
✔️ proficiency with InVision or similar product design platforms
✔️ experience in utilizing User Research data to create user flows, prototypes, wireframes & mockups
✔️ experience in collaborating with a front-end developer & knowledge of front-end frameworks
✔️ curiosity, empathy & good analytical and communication skills
✔️ experience with user-centred design
✔️ a keen eye for aesthetics & detail
✔️ experience traveling and/or working in the travel industry is a plus!
Ready to apply?
If you read this post, and it sounds like your cup of tea, make sure to apply using the big blue button below!
We're accepting applications till November 14th, 2021. Then, we'll be having short, max 30-min interviews with the best-fitting candidates till the end of November based on your availability.
So, the approximate start date for this position is between the end of November and the beginning of December.
The starting budget for this position is USD 3,000.
To make sure you've read all the details, use the words "fellow adventurer" when asked for your time zone, so that it reads "This fellow adventurer is based in CDT."
The Airwander team is looking forward to e-meeting you!