Visit Ukraine: The Guide to Ukrainian Cities
By Kateryna Kirian
Hi there, a fellow globetrotter! Let's take a closer look at your travel bucket list. Does it include the Earth's wonders? Or the highest peaks? Or the biggest/smallest countries? Anyway, we're going to suggest an amazing destination for your next trip. Why not go to the biggest country in Europe? In other words, why not visit Ukraine? Because the nature in Ukraine is absolutely astounding. Check it out yourself on the video below.
However, in this article, we'll focus on yet another amazing aspect of Ukraine – Ukrainian cities.
➙ When you visit Ukraine, include on your bucket list…
📌 Kyiv with its rich historical background,
📌 Chornobyl Exclusion Zone,
📌 culturally diverse Lviv with unparalleled coffee and chocolate,
📌 the port city of Odesa,
📌 …and get insight into the ongoing history of Ukraine.
Kyiv is one of the oldest and most important cities in Eastern Europe. Thus, it had a significant influence on the country formation. Thanks to that, Kyiv has plenty of amazing places where the history of Ukraine has been unfolding.
➙ What to see in Kyiv?
Andrew's Descent (Andriyivskyy Uzviz)
You can start exploring Kyiv from one of the wonders of Ukraine – Andrew's Descent. This place is a cultural gem of the Ukrainian capital. Every brick there can tell a story. And every house hides a secret. While walking on the hill, you will pass through numerous galleries and workshops. Kyiv's artists set up painting exhibitions there that bring the Bohemian atmosphere to this place. Also, you can find renewed and glorious St Andrew's Church. And buy some handmade souvenirs from the locals.
Independence Square (Maidan Nezalezhnosti)
Another destination you must see when you visit Ukraine is Independence Square. It also happens to be Kyiv's main square. This place still keeps traces of the Ukrainian Revolution of Dignity that took place not so long ago in 2014. On the main square, you can sense Ukrainian willpower and their striving for freedom and better life.
Pyrohiv Museum of Folk Architecture
After exploring a busy city, you can calm and relax in Pyrohiv. This place has the biggest open-air museum in Europe features folk architecture. It shows how Ukrainians lived over the centuries. The museum contains 300 examples of folk architecture from all parts of Ukraine. Moreover, you'll find there more than 40,000 household items and objects of Ukrainian culture. Also, Pyrohiv often hosts open-air festivals featuring an old Ukrainian rural lifestyle. Make sure you'll have time to visit it!
Kyiv is a city that never sleeps! It offers a wide array of events taking place daily. So if you're looking for entertainment, you can visit Ukraine's another wonder. It's the House of Organ and Chamber Music inside the St Nicholas Cathedral. Another must-see is the magnificent National Ballet of Ukraine at the Taras Shevchenko National Opera Theater. Moreover, Kyiv's nightlife may surprise you. Are you into plenty of dancing and underground parties with incredible people? Kyiv is the right place to explore!

➡ Tips from Airwander
Affordability
Good news for the budget traveler! You should know that Kyiv often appears on the lists of the most affordable European destinations. For instance, the metro ride will cost you 0.24 EUR. And theater tickets start from just 3 EUR. Accommodation cost is also lower than in Western and Central Europe.
You can use your trip to Kyiv as a gateway to see Chornobyl. It's also referred to as Chernobyl, but it's an outdated spelling. It is the scene of a catastrophic nuclear explosion from 1986, which wrecked tens of thousands of lives. The historical background of the Chornobyl tragedy may upset you. But still, there's something about exploring this enigmatic tourism destination. Moreover, Chornobyl is by now safe to visit on a guided tour. On that trip, you can discover the city of Pripyat. It became a deserted town after nuclear reactor destruction. Now it's a ghost city, filled with abandoned homes, cars, toys, and so on.
Active life in Chornobyl stopped in the '80s as people were forced out due to high radiation risks. Nature has been blossoming ever since. However, there are self-settlers of Chornobyl. These people returned to the exclusion zone, and some of them live there till now. Check out a short and insightful documentary featuring Baba Gania, one of the settlers. You'll gain an understanding of what motivated these people to come back.
You can book the guided Chornobyl tour with multiple companies. However, check out the reviews first. Make sure they offer English-speaking tours.

➡ Tips from Airwander
Another culturally significant city of Ukraine is history-rich Lviv. The city is in the western part of the country. It is famous for the most delicious coffee and chocolate. Lviv undeniably belongs to the list of cities you must check off your bucket list when you visit Ukraine. Largely, thanks to its diversity and incredible atmosphere. If Lviv were a person, the city would be polyglot and cosmopolitan. It combines the architectural and cultural heritage of various states and empires that have been shaping Lviv's identity through the centuries.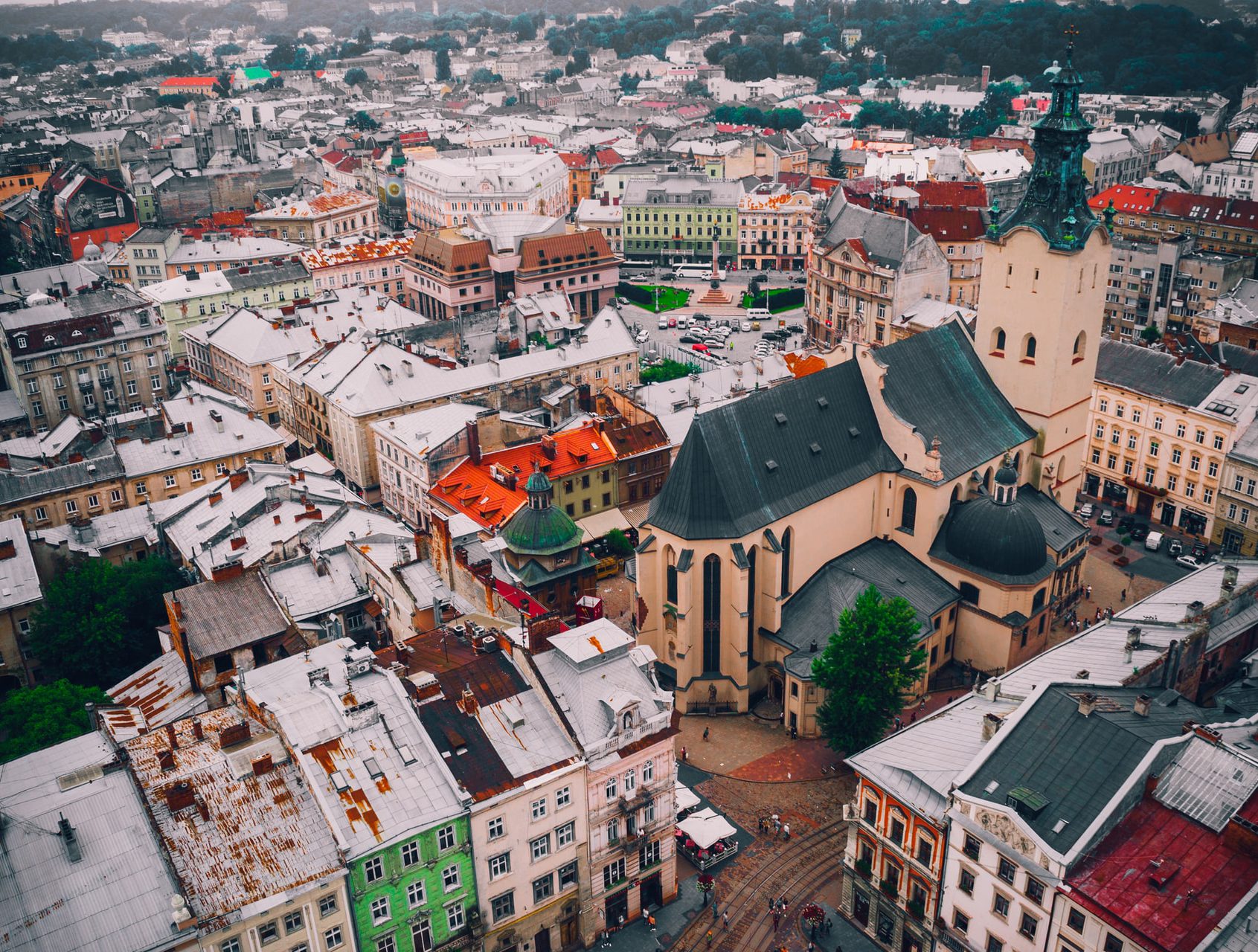 ➙ What to do in Lviv?
Lviv's atmosphere
Lviv has a long history. It was founded in 1256 by Daniel of Galicia, King of Ruthenia, and named after his son Leo. Lviv was serving as the capital of the Kingdom of Galicia–Volhynia. Then it was conquered by and included in the Kingdom of Poland. And became a part of the Austro-Hungarian Empire afterwards. Until the Nazis and the Soviets rolled in during World War II, Lviv was a multicultural city. And the biggest groups were the Ukrainians, Jews, and Polish. Thanks to its diversity and a strong identity, Lviv experienced less influence from the Soviets.
Lviv's colorful buildings' facades belong to the authentic wonders of Ukraine. Being there means feeling the charm of old Europe in every step. There are lots of incredible tours, also Free Tours, to experience all of it. Lviv's historical footprint can be traced back thanks to the architecture masterpieces from various epochs. However, despite the multitude of influences, Lviv is the most Ukrainian city there is. One more reason to check it out.
Lviv International Airport gives you a lot of possibilities to get the most out of your trip to Ukraine. You can see more countries on your way. It offers flights to Austria, Germany, Greece, Georgia, Spain, Slovakia, Estonia and many others. Airwander is happy to help with the stopovers. Don't miss out on bonus cities!

➡ Tips from Airwander
Chocolate and coffee
While in Lviv, you simply can't help but get mesmerized by the tempting scent of chocolate and coffee. It's simply everywhere. Lviv is a place where Lviv Handmade Chocolate trademark was created. It expanded all over the country, delivering happiness to chocolate lovers. Also, don't miss a chance to enjoy a local dessert syrnyk with a chocolate icing and a cup of coffee. It is the Lviv equivalent of a chocolate cheesecake.
Ukrainian chocolate is one of the tastiest in Europe! So, buy some delicious souvenirs for yourself or friends and family when you in Lviv.

arrow: Tips from Airwander
Unusual restaurants
Lviv's restaurants are a phenomenon you cannot miss when you visit Ukraine. The cafés draw inspiration from the city's rich past. For instance, Rynok Square (Ploshcha Rynok, which is right in the heart of the city) has Galicia's most expensive restaurant. The prices there may shock you because of the many zeros in the bill. But don't be afraid, it's just a trick :). The atmosphere there is truly unique. And you can find out about the Masonic movement in Ukraine. No more spoilers, check it out yourself! Or find out more about Masonic secrets.
Kryjivka is probably one of the most interesting restaurants in Lviv. In order to get there, you should pass the test! After knocking on the door, a soldier with a gun in his hand will ask you a password. However, don't worry, the gun isn't charged, it's just for fun. To get it, you should say, "Slava Ukraini!" (eng. Glory to Ukraine) and drink a shot of Ukrainian alcohol – Medovucha. Only then the soldier let you into the hideout.
For more restaurant ideas in Lviv, check out Lonely Planet guide.
City of festivals
Lviv can also surprise you with plenty of colorful and vivid festivals! That's why no matter when you come to Lviv, there's always something going on to entertain you. There are chocolate, bread, beer, cheese, coffee, doughnuts and wine festivals. Such a multitude to choose from will definitely make your inner monkey happy.
Moreover, Lviv's musical scene is also strong. If you are interested in classical music, the Virtuosos Music Festival is the best match for you. However, you can also attend Leopolis Jazz Fest. Or listen to Jewish music at the LvivKlezfest. Also, don't miss out on the unique Ukrainian vibe at Etnovyr – International Folklore festival.
Odesa is one of the most diverse cities to explore when you visit Ukraine. The city is a curious mixture of vintage murals and modern, exciting buildings. It welcomes visitors with its own sense of humor, warm sea breeze, and sunny beaches.
➙ What to see in Odesa?
The Potemkin Steps
The first thing to explore in Odesa is Potemkin Steps. The iconic stairs lead down from Prymorsky Boulevard to the seaport. They are a perfect spot to enjoy breathtaking views of the harbor below. If you are not a walking type, take the funicular down and back 🙂
Walk by the harbor
Odesa has a major Ukrainian seaport on the Black Sea. It is one of the places you'd surely want to see when you visit Ukraine. Once coming to Odesa, don't miss a chance to take a walk along the harbor. You'll see the monuments of the Golden Child or Sailor's Wife. In the harbor, you can see numerous ships of various sizes. They are an important part of the city's life. The sea view is especially impressive at sunrise and sunset.
Pryviz Market
If you want to soak up the local life, go to the Pryviz Market. Because it's a place where locals sell everything you could ever wish for. Pryviz is the largest farmers' market in the country. It offers fresh fish, clothes, souvenirs, old CDs, and much more. Whatever you buy – always bargain. In fact, you'll upset locals if you don't.
Humorina Festival
Humorina Festival (the Festival of Humour) is an annual celebration that takes place in April in Odesa. People move around in a cheerful procession with clowns, musicians and street artists. All of them wear fancy costumes and do a fantasy make-up. During this festival, you can enjoy concerts, performances, stand-up comedies and cosplay shows. The parade goes through the main sights of Odesa. This is when you can admire the neoclassical architecture of the city. These are, first and foremost, the gorgeous Odesa Opera and Ballet Theater, and the Vienna State Opera.
You can easily fly to Odesa from Kyiv in just an hour. There are several daily flights between the two cities. Or you can go for the adventure and romantic spirit while travelling by overnight train.

➡ Tips from Airwander
Ukraine is not Russia
Fortunately, the stereotype about Ukraine as a part of Russia fades away bit by bit. Ukraine is an independent country, whose independence has been encroached on for centuries. Kyiv was founded in 482, while Moscow emerged in 1147. This alone explains that Ukraine can't be a part of something that appeared later than it did. In the 13th century, Kyiv was a center of the big state called Kyivan Rus'. At the same time, the territories of modern Russia comprised small villages hidden in the forest.
Unfortunately, Ukrainians are still fighting against the occupation of Russia nowadays. Hence, the two eastern regions of Ukraine, are impossible to visit, as there is an ongoing war. Sadly, the same concerns the Crimean Peninsula with its unique history and nature. However, it is absolutely safe to visit all the other parts of Ukraine. So allay your fears and discover the rich and colorful history of Ukraine.
If you want to find out more about the country, visit The Ukrainer. It's a media project to celebrate Ukrainian people and their diversity, natural wonders and unexpected geographical discoveries.

➡ Tips from Airwander