The 9 unique festivals around the world
By Kateryna Kirian
There are plenty of fascinating festivals around the world that can help you get a better understanding of the culture & history of a country on your bucket list. Yet, there are some unique festivals that could strike you as absolutely bizarre. Let's discover them together!
Ready to start your fascinating journey of extraordinary festivals?
✨ #9 Holi: The most vibrant among the unique festivals
🍅 #8 La Tomatina: The reddest among the unique festivals
🍇 #7 Haro Wine Festival: The wettest among the unique festivals
🧀 #6 Cheese-Rolling Festival: The most competitive among the unique festivals
🔥 #5 Up Helly Aa: The fieriest among the unique festivals
🌊 #4 Underwater Music Festival: The most thought-provoking among the unique festivals
🥶 #3 Hair Freezing Contest: The most creative among the unique festivals
🏮 #2 Yi Peng Lantern Festival: The most romantic among the unique festivals
🌺 #1 Día de los Muertos: The deadliest among the unique festivals
➙ Where: India and Nepal, but also a lot of countries with Indian diaspora
➙ When: March
➙ What: color powder ✨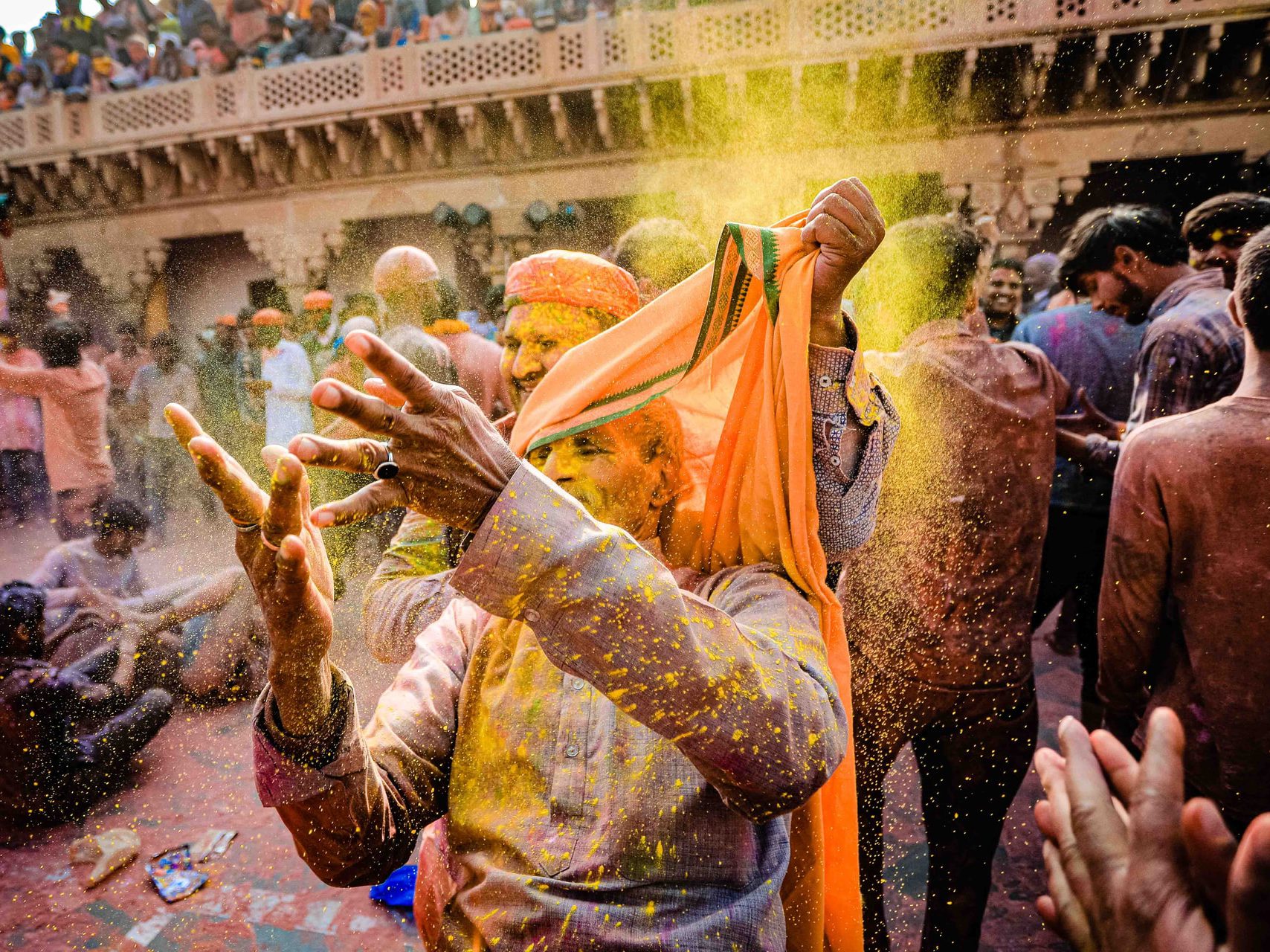 You've probably heard about the unique Indian festival of colors. Holi is also known as Festival of Love or Festival of Spring. Holi signifies an ancient tradition to celebrate the arrival of spring, when everybody and everything blooms and blossoms. Therefore, it is a holiday of fertility, color and love. It's one of the main festivals of India and definitely the most vibrant of all. It is often recognized by the color powder (known as gulal) that people use to smear on and throw at each other.
There are four main Holi powder colors which stand for different things
Blue is the color of Krishna 💙.
Red represents love and fertility ❤️.
Green is a symbol of spring and new beginnings 💚.
Finally, yellow stands for knowledge and learning 💛.
Moreover, holidays show the triumph of good over evil. That's why a lively, upbeat mood and laughter accompany the festival.
Here are 5 reasons why you should go to India and celebrate Holi!
Awaken your inner child.
Add some colors to black and white working days.
Laugh as much as you can.
Taste glorious festival food.
Celebrate spring and your own new beginnings.
Even though Holi was originally celebrated in India, this unique festival has nowadays spread worldwide. And people around the world celebrate it in their own ways.
➙ Where: Buñol, Spain
➙ When: last Wednesday of August
➙ What: tomato fights 🍅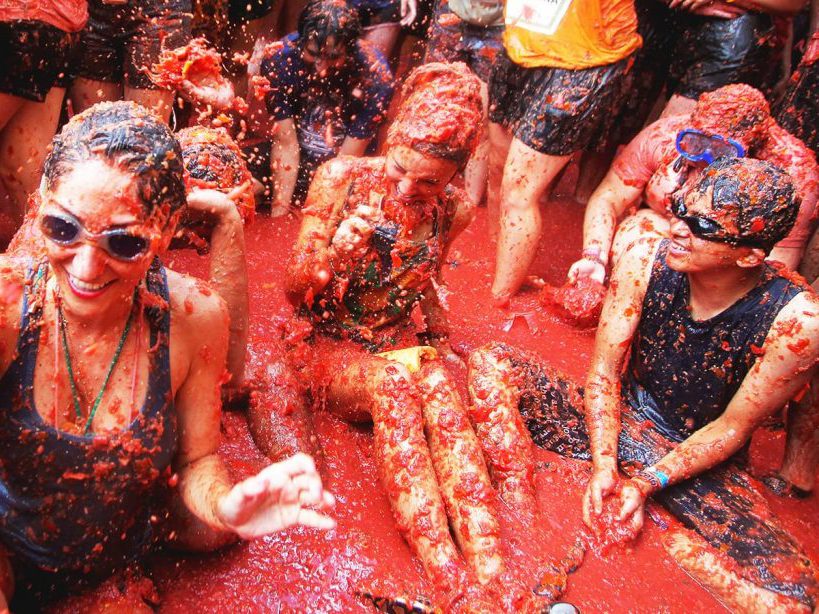 So, the first one on the list of unique festivals is the exciting La Tomatina festival. It's held annually in Spain on the last Wednesday of August. The location for this amazing event is the town of Buñol in Valencia. In fact, each year, it becomes the battlefield for the grand tomato fight. Thousands of people come to throw squashed, overripe tomatoes at each other. The legend has it that La Tomatina started in 1944. Back then, children threw tomatoes at bad musicians, and it escalated into a tomato fight.
Whatever the real reason, La Tomatina became one of the most unusual festivals in the world. If you've always dreamt about a huge food fight with an enormous number of people, it's high time you visited Spain. It takes 22,000 people and 120 tons of tomatoes to make it happen. Loosen up and give it a try!
You'll probably need some extra clothes to change after such an epic tomato battle. So, don't forget to take some old summer outfit, which you can throughout afterwords.

➡ Tips from Airwander
➙ Where: La Rioja, Spain
➙ When: June 29th (San Pedro's day)
➙ What: wine battle 🍇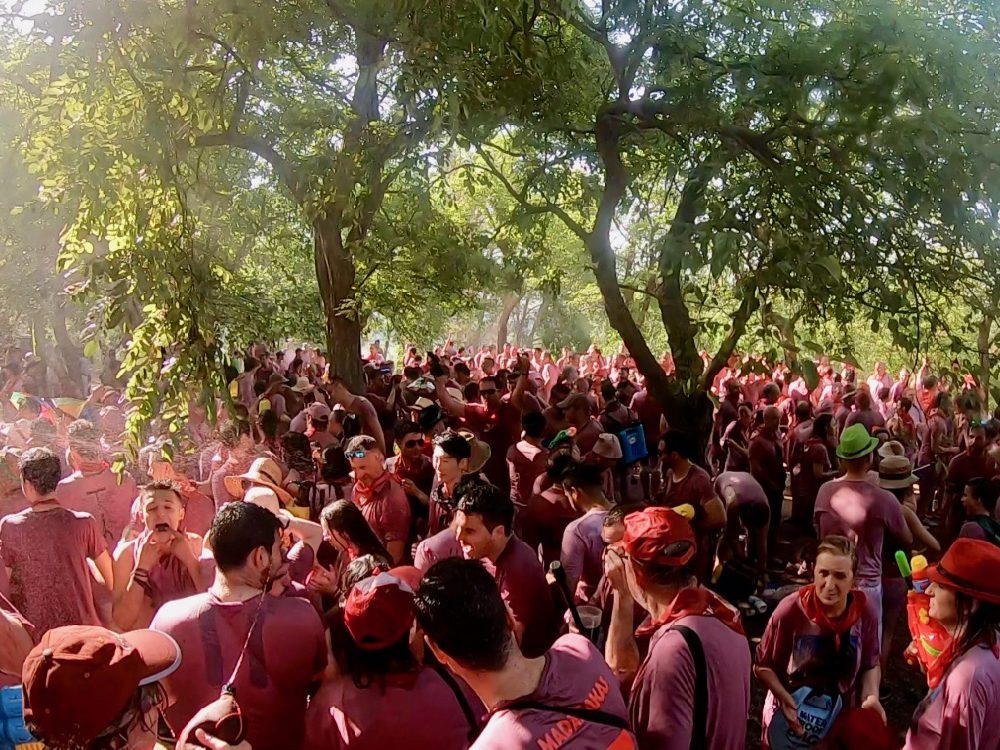 The next stop on the list is in Spain as well. Similarly to La Tomatina, Haro Wine Festival is a battlefield. But this time, it's all about wine. During the wine battle, you can use red wine to soak your fellow competitors. Interestingly, it's a festival for early birds. People begin to gather in Haro by 7:00. So you can grab a mug of red wine instead of your morning coffee 🙂
This unique festival takes place on a mountain, which is 6-7 km from the town of Haro. So a pleasant hike and amazing views are included in the package. All you need to do is bring as much red wine as you can. In boxes, jugs, bottles or any other packaging. And afterwards, enjoy the big wine battle!
If you want to feel like a local at the festival, wear a white shirt and a red scarf during the wine battle. But keep in mind that shirt will turn violet 🙂

➡ Tips from Airwander
➙ Where: Gloucestershire, England
➙ When: last Monday of May (Spring Public Holiday)
➙ What: cheese race 🧀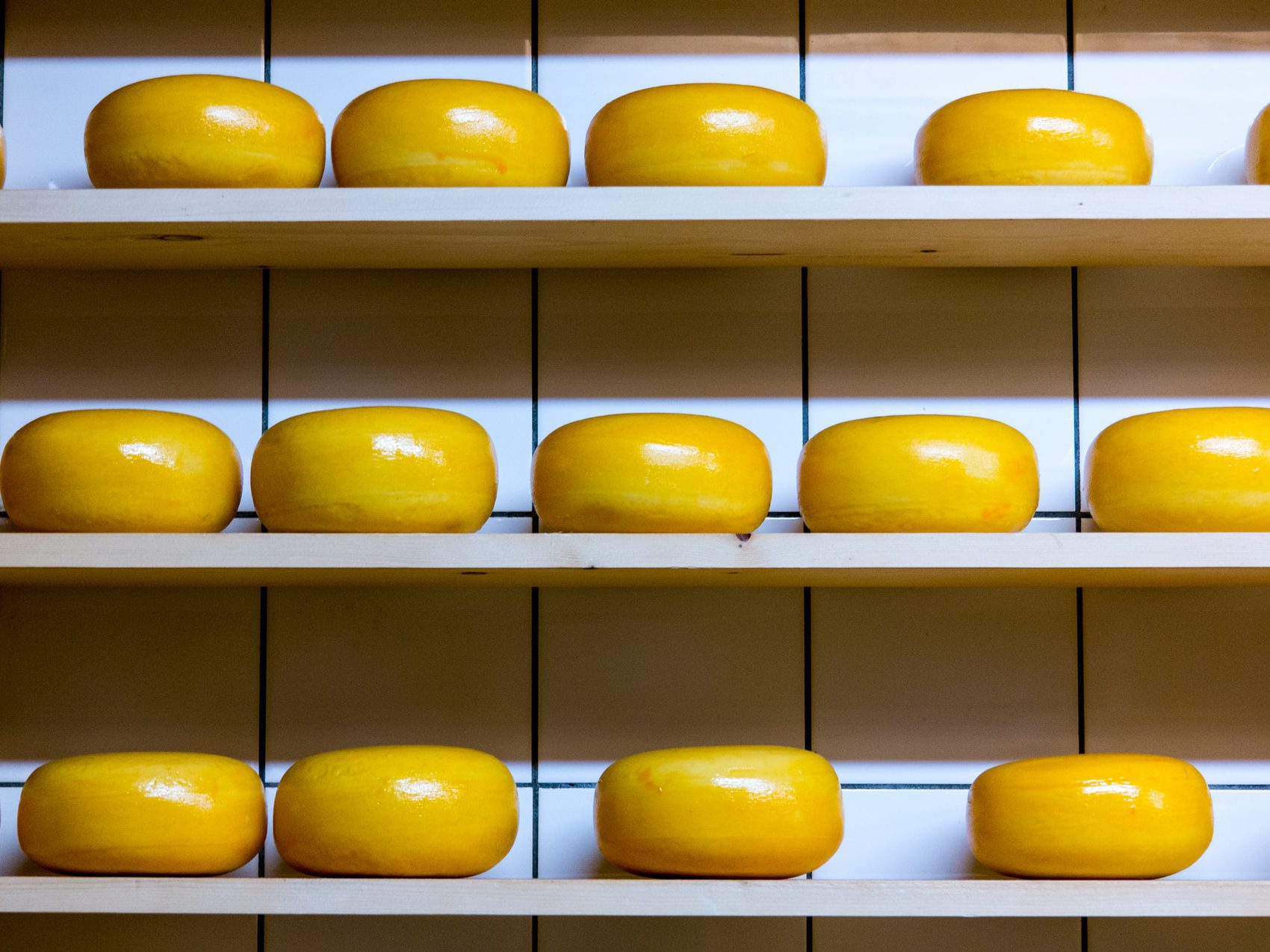 Now that we've had tomatoes and wine, why not treat yourself to some cheese? The festival's name speaks for itself. Just imagine a nine-pound round of Double Gloucester cheese is rolling down from the top of the hill, and participants chase after it. A goal is very clear – to grab a fast-rolling cheese!
Who will outrun whom?
Spoiler alert! In fact, it's impossible to catch the cheese. The cheese rolls gain speed extremely quickly. Nonetheless, you are still welcome to join in. The winner is the one who crosses the finish line the first after the cheese itself :D. As reported on Culture Trip, the Masters of the Ceremony start this unique festival with traditional words. 'One to be ready, two to be steady, three to prepare, and four to be off!'
Good news! You don't need to meet any specific requirements to enter the competition. Just get to the top of the hill and register. However, be careful, and don't harm yourself during a run.
The symbolic meaning of the festival will surprise you!
The origin of the cheese-rolling festival can be traced back to pagan traditions. Back then, people used to throw bundles of burning straw down the hill. This represented spring coming after winter. Still, the updated version of the festival still offers loads of fun and physical activity for you and your friends.
➙ Where: Lerwick, Shetland Islands, Scotland
➙ When: last Tuesday of January
➙ What: fiery parade 🔥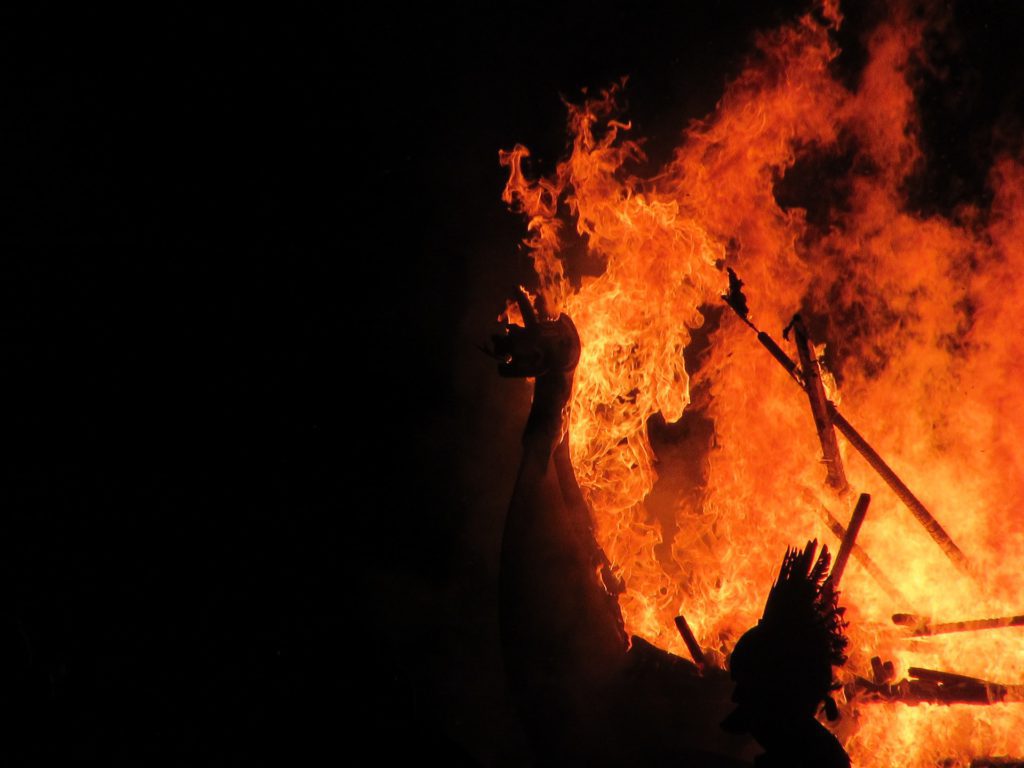 As we've finished with our festive food, why not add some festive mood? To be more precise, more like a medieval festive mood. Are you a fan of Game of Thrones or Lord of the Rings? If so, good news for you! Shetland is a place where you can become a part of the Viking-themed fire festival Up Helly Aa. Just imagine that you can observe a festival with more than 1000 people dressed as Vikings, carrying flaming torches in a procession around Lerwick. During that time, the streetlights are switched off, and the sky above the city turns red. The festivities last the whole day.
The morning starts with a parade of men marching in their Viking uniforms. The culmination happens in the evening, when all 'Vikings' circle a Viking galley and set it on fire. What a breathtaking view! I bet the image of a fiery galley won't leave your mind for a while!
The parade attracts a large crowd. So make sure you find a good spot for photos and stick to it.

➡ Tips from Airwander
➙ Where: Florida, U.S.
➙ When: Saturday after July 4th
➙ What: underwater gig 🌊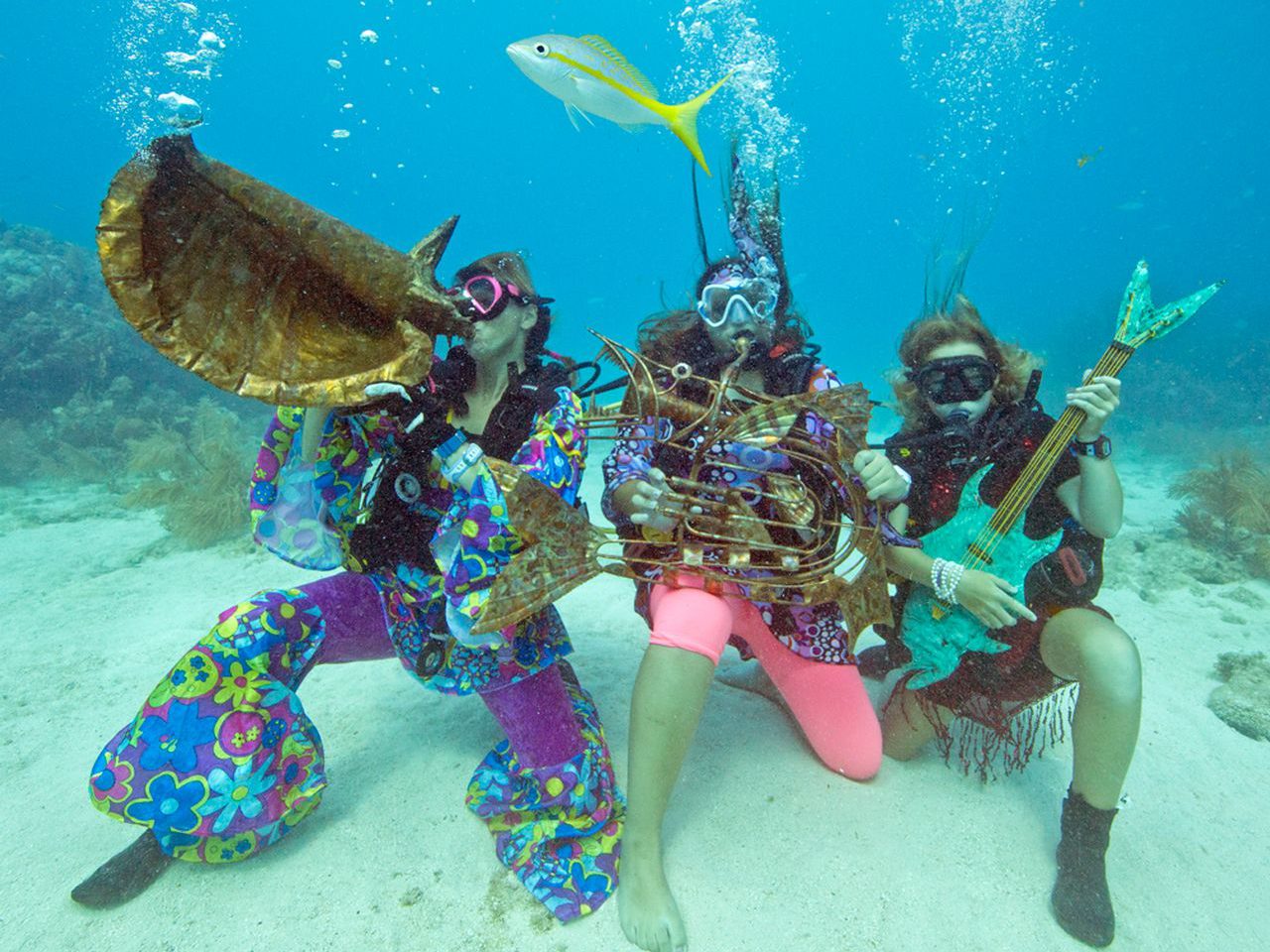 Oh man, after such a feast, we'd better spend some time cooling down. What's a better way than a full immersion into the water? And that I mean literally. Florida's Underwater Music Festival is an inspiring underwater experience that has come into being in order to raise awareness about the coral reef. In fact, the reef itself is the object of celebration. The divers, who also happen to be the musicians with whimsical instruments, play songs inspired by the ocean and its inhabitants. You can enjoy "Yellow Submarine" or "Octopus Garden" from a depth of 20 feet below sea level.
Now's the best part. You don't necessarily need to go underwater to listen to unbelievably unusual music. You can just make yourself cozy on the beach! Then, you'll be able to 'see the music' from underwater speakers. There's more to it. Since sound waves travel 4.3 times faster in water than they do in the air, the underwater tunes feel ethereal. That is why you just have to hear it with your own ears.
➙ Where: Takhini Hot Springs, Whitehorse, Yukon in Canada
➙ When: each February
➙ What: frozen hairstyles 🥶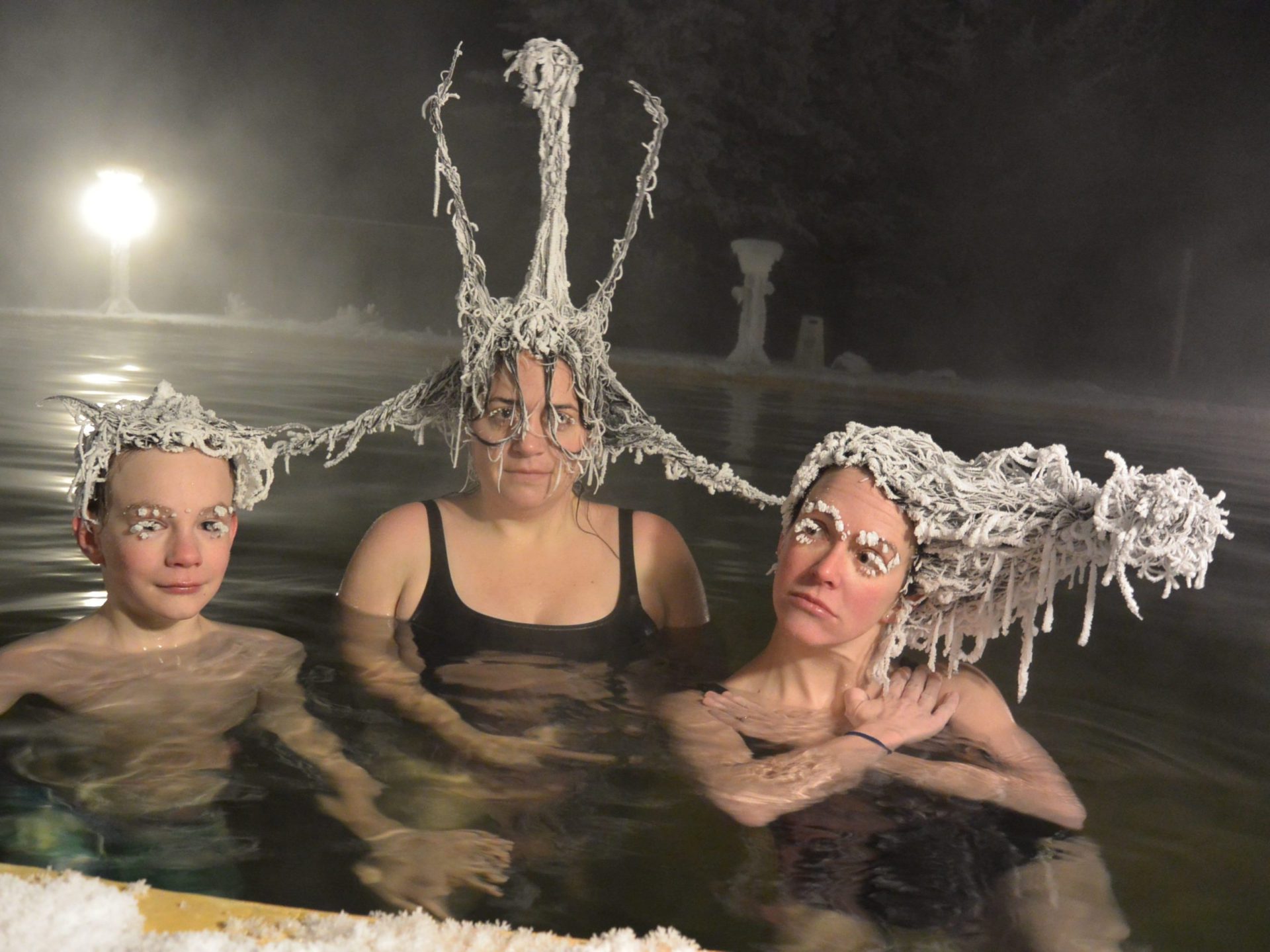 Bad hair day? Not at all, if you take part in Hair Freezing Contest. All you need to do to join the festival is to visit Takhini Hot Pools in February. Don't be surprised when you see the temperature drop below -20°C (-4°F). Apparently, it's an absolutely normal thing in this part of Canada.
Check out 2 simple steps to get a perfect hairstyle!
First, dive in head first in hot water. Make sure all of your hair is soaking wet.
Second, dive out and let the cold air freeze your hair slowly. The organizers promise that it won't damage your hair. I guess we'll just have to trust them on this one 🙂
That's it! With a pinch of creativity, you may end up winning the hair freezing contest! Moreover, the award itself is not bad either. They get CAD $2,000 in addition to free hot springs passes.
Keep your ears warm by periodically dipping them into the hot water. Remember, it's not the eyelashes freezing contest 😀 However, there's a high chance you'll end up with both frozen eyebrows and eyelashes. So you may as well have as much fun as you can along the way!

➡ Tips from Airwander
➙ Where: Chiang Mai, Thailand
➙ When: the full moon of the 12th month of the Thai lunar calendar (which is usually in November)
➙ What: a festival of lights 🏮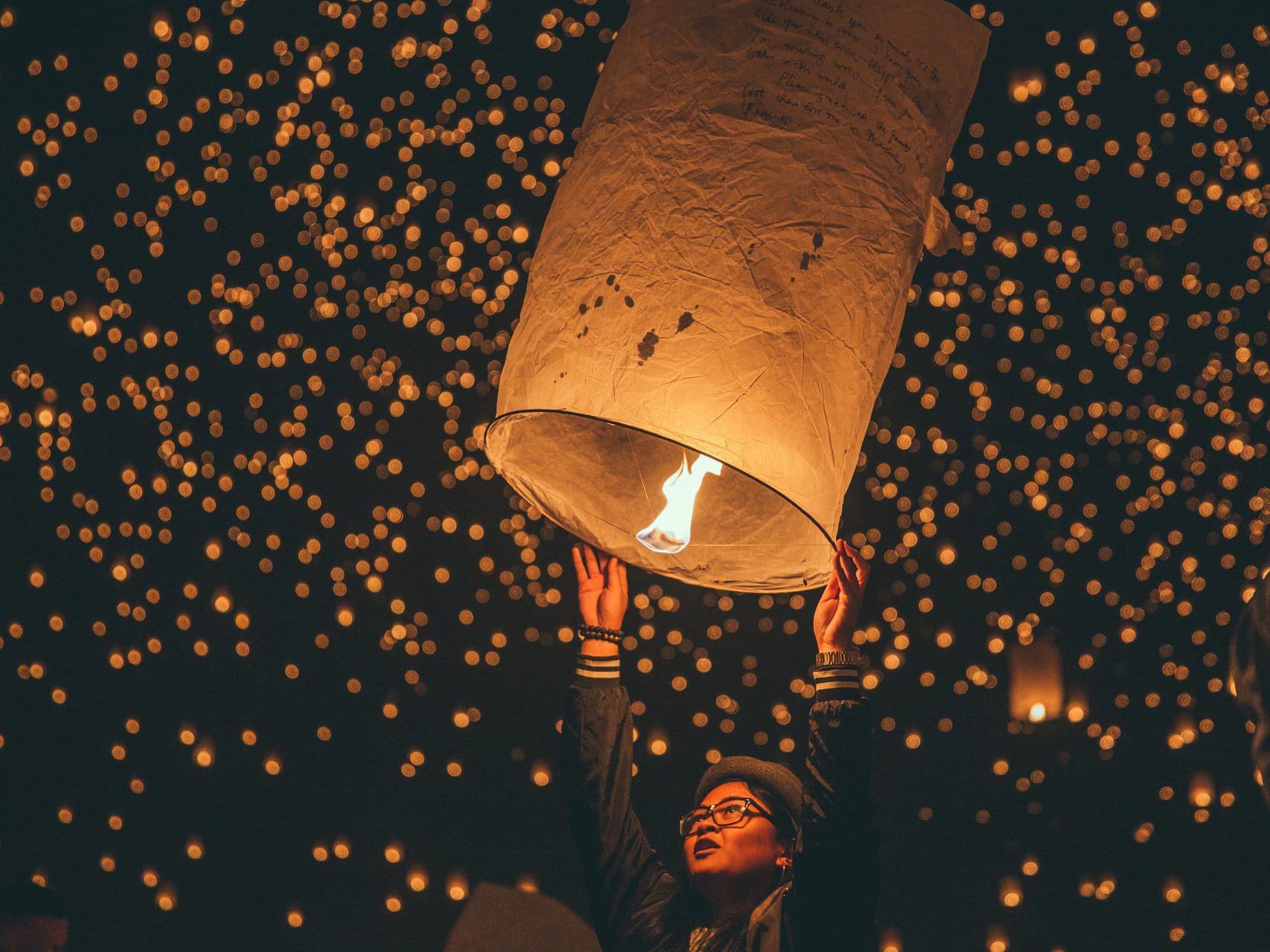 Do you recall the scene from Disney's Tangled where the main characters release the lanterns into the sky? I bet you have dreamt about doing the same at least once. The idea came from the concept of the lantern festival of Yi Peng. There, thousands of floating lanterns mark the beginning of a cool season. Moreover, they stand for symbolic cleansing of fears and bad fortunes being swept away. Not to mention the immense excitement and joy reflected in the festival's mood.
Participants of the festival release lighted lanterns into the sky while simultaneously making a wish. Can you imagine how magnificent it all looks? Thousands of lanterns are flying simultaneously, going up at various speeds, to brighten the night sky.
The exact date of the festival is known just a few weeks in advance. So make sure your schedule is relatively free around November.

➡ Tips from Airwander
➙ Where: Mexico
➙ When: November 1st & 2nd
➙ What: beautiful amalgamation of flowers & skulls 🌺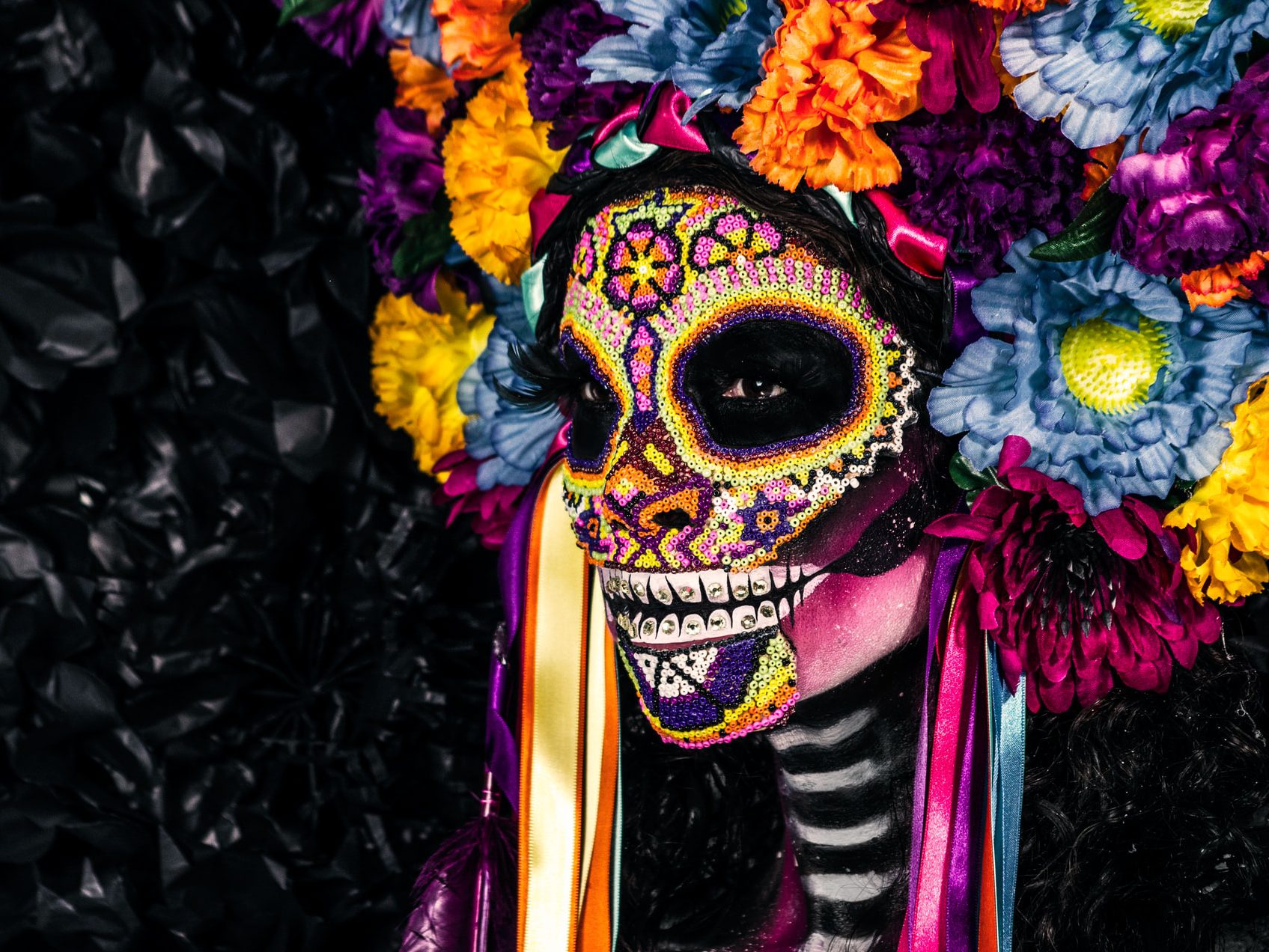 The Day of the Dead is a special holiday in Mexico. It's known locally as Día de Muertos. It's an old tradition aimed to remember and honor family members that aren't alive anymore. Locals believe that during this time, the deceased souls come closer to the living family. At midnight, Mexican families go to the cemetery. They bring up favorite meals of the departed family members. During this unique festival, houses, shops and cemeteries are decorated with colorful small coffins, butterflies, skulls, flowers, mini-skeletons and many other beautiful things.
What to focus on during this unique festival?
There are a plenty of things to do during Día de los Muertos. But one you can't miss is the Dead Parade. This is where you can amaze at the beautiful ancestral traditions of the Day of the Dead. You can see giant skeleton puppets, moving altars, skulls, traditional dancers, and much more.
During the festival, the city is beyond packed. That's why you'd better arrive much earlier to find a good spot. So that you actually see the parade with your own eyes!

➡ Tips from Airwander