Post-Pandemic Travel Planning: Wanderlust vs. Safety
By Kateryna Chyzhykova
Do you often get itchy feet when looking at those amazing photos of yours from the last trip? Are you thrilled to get back on track with your travel planning after a long break? Or maybe you just can't wait to visit some amazing real-life locations from your favourite fantasy movies and feel the urge to start buying plane tickets right now? We feel that, too! But here's the thing:
Travel as we knew it is over and it's never coming back.

Brian Chesky, Airbnb CEO
Still, keep your chin up. Adjusting to the new circumstances is one of the best skills we humans have, as is planning.  That's why we've prepared the basics of Post-Pandemic Travel Planning – to introduce you to smart travel during and after the coronavirus.
Why travel planning matters?
The era of spontaneous travel is most probably over. Apart from your own preferences, you should now consider a bunch of formal regulations such as whether you can leave your origin country, your transit and destination country's entry requirements and quarantine policy, as well as the actual health situation in the places you'd like to visit. In the light of the constantly changing rules, travel planning is absolutely critical to pulling it off.
So, how to plan your travel experience step by step, including where to go, when to book, how to fly, where to stay, and finally – what's with the budget?
Travel Planning: WHERE TO GO?
While you used to start with WHERE you WOULD LOVE to go, now you should start with WHERE you are ALLOWED to travel as a tourist. We suggest you keep the order we've created for you below.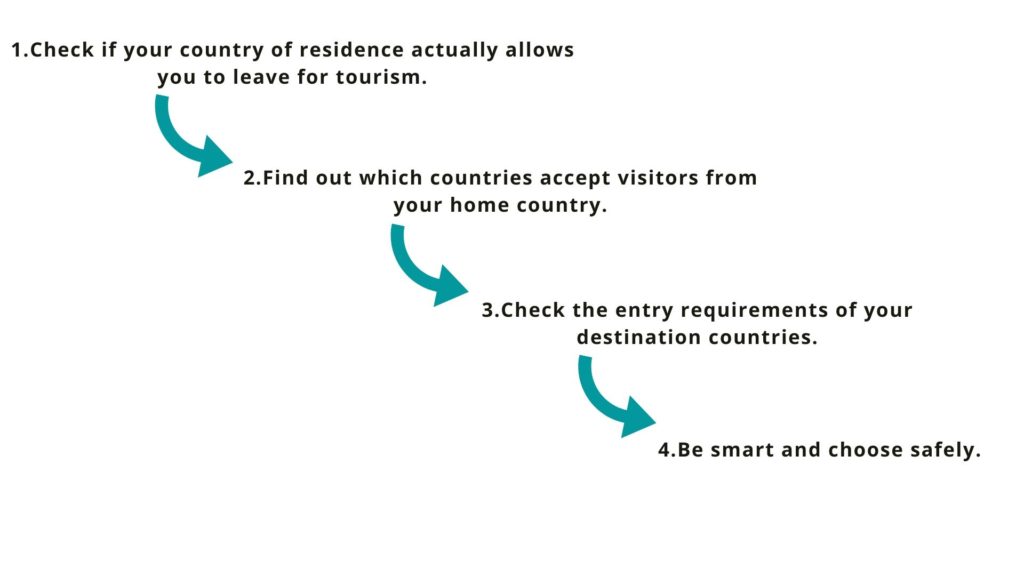 1. Check if your country of residence actually allows you to leave for tourism.
If they say you can travel, that's amazing! Still, find out what's the return policy – a 14-day self-isolation may be required for those coming back from certain countries. If your home country is still closed, read up on its opening policy – travel may be closer than you think.
2. Find out which countries accept visitors from your home country.
Keep in mind that regulations may be contingent not on your actual citizenship, but rather on your country of residence, point of departure or a specific status resulting in an exemption. For example, while Poland keeps the borders closed to the most non-EU countries, students of the non-EU countries, such as Ukraine, may still enter without the need to self-isolate. What's more, citizens of non-EU countries living in the EU (those having long-term visas or residency cards) are often subject to the same regulations as the EU citizens, and can already travel within the EU countries which lifted restrictions. So, for example, if you're a non-EU citizen but living in the Czech Republic, you have the right to travel to let's say Poland as if coronavirus have never happened.
3. Check the entry requirements of your destination countries.
Here, the policies are legion. They may require you to fill in the online form to show it on arrival or present the negative COVID-19 test made no later than 48h or 72h prior to arrival. They may as well make random health checks for arriving tourists, which means you'll have to wait for your test results in a certain place (your booked accommodation or a designated facility) without the right to leave it. DO pay attention and select your sources carefully – fact-checking is the new black and is crucial to the success of your trip.
4. Be smart and choose safely.
Now that you know you can officially go abroad and come back home without extra obstacles, create the list of countries that underwent your meticulous selection. Read up on what's going on there to decide if it's indeed safe, or if this country just desperately needs tourists to boost the economy.
Travel Planning: WHEN TO BOOK?
Your official vacation and to some extent ticket prices used to be decisive in choosing your next destination. From now one, you should take some extra aspects into account, such as the airline flexibility policy or the possibility of the second lockdown worldwide.
It's high time you read the long airline refund policy.
As basically no one can guarantee your trip will actually happen, it's better to pay a bit more to ensure you'll get the refund than just let the fate take its course. You may go for flexible changes or a full refund, but check twice. It may also be the case that if your flight gets cancelled due to the coronavirus-related reasons, you will only have the right to rebook the same route in the next 3 months.
Better sooner than later.
 It's generally much cheaper to book in advance, but in a situation that's hard to predict it may be safer to grab the flight tickets for the closest future (up to 2 weeks) while you still can. Countries update their entry regulations on a daily basis, and it's not always a positive change – for example, Slovenia decided to close the borders for the 2nd time, as soon as the situation got worse and Singapore also experienced a sudden virus resurgence. What's more, there's a chance of the 2nd wave of pandemic (based on general knowledge of the diseases, so it may as well be a false alarm). What we want to say is that you should be cautious about planning too far ahead.
Travel Planning: HOW TO FLY?
While you may be used to arriving at the airport at the last minute (I definitely am), you better take it slowly from now on. Social distancing in practical terms would mean longer lines, and new health safety measures may take more time than you expect. Here's a stack of things you should keep in mind: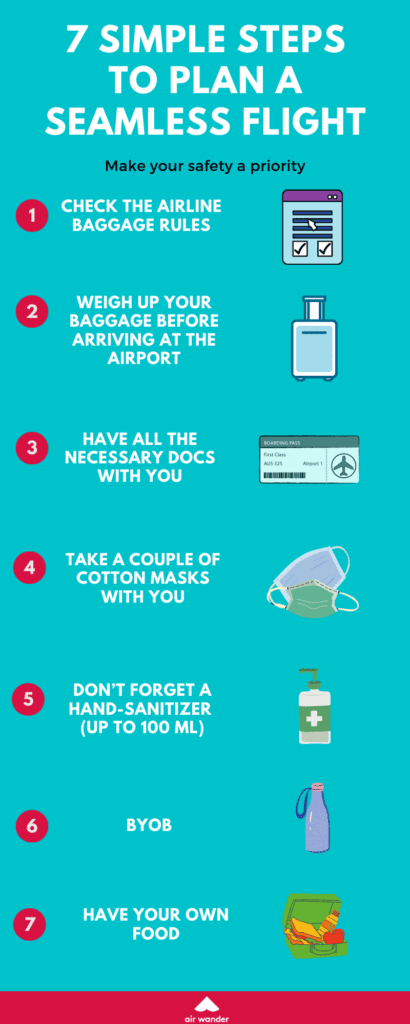 Remember to…
Check the airline baggage rules. It may be the case they would like you to go for the registered baggage only, to minimize the contact and all the "touching" on board. Also, airlines have a different policy in terms of the allowed size of the cabin bags, so make sure your cabin bag is just the right size or smaller – they may ask you to squeeze it into the sizer at the gate, especially for the low-cost flights.
Weigh up your baggage before arriving at the airport. There may be limits on both cabin and checked baggage, and you don't want to be getting rid of your favorite items right before the start of your dream journey. If you're still figuring out, what to take or not to take, check out our article about 11 Travel Must-Haves that need to be found on your next trip checklist.
Have all the necessary docs with you (and check if you have to print them out). Some airlines allow you to show an e-boarding pass on your phone. Still, others require to have it printed out. For post-pandemic air travel, some extra documentation may be required to be able to enter the country, so make sure you and the welcoming country customs are on the same page.
…but don't forget to…
Take a couple of cotton masks with you. It's an absolute must to wear a mask all the way from entering the origin airport till leaving the airport in the destination city, so you better have a few of them. Cotton masks are easy to wash and quick to dry, and you'll be doing a huge favor to the environment by not throwing away a mask after every single use.
Don't forget a hand-sanitizer (up to 100 ml). Extra disinfection won't hurt, especially if you are not planning to sit still throughout the whole flight. Some only feel safe in gloves, but they keep forgetting that the most important thing is not to touch your face. So instead of having to sweat through the flight, you can regularly clean your hands and work on your not-face-touching habit.
BYOB. Yes, it's time to say NO to single-use plastic bottles that we keep throwing away right before the airport security. The way to go about it is to bring your own bottle, made of sugarcane, bamboo, steel, glass etc., and fill it with water right after you've gone through the airport security. In some countries, there're special water points for this purpose, in others tap water is safe to drink. Do your research and choose this one bottle that's going to be accompanying you in many trips still lying ahead. By the way, it's a money-saver – you won't have to pay for the plastics each time you're thirsty, all you'll have to do is to find a water point or a tap.
Have your own food. While you still might order some kind of packaged food onboard, the in-flight services have been limited. Keep it in mind, especially for long-haul flights.
Travel Planning: WHERE TO STAY?
Here's my personal selection of accommodation websites (which doesn't imply you can't have your own favorites). Always check at least a couple of websites to make sure you're getting the best combination of price and experience. What's more, in times of uncertainty with the opening of the borders, it may be good to choose an offer that's at least partially refundable unless you're absolutely sure you'll make it. Also, always ask your host if you could leave your baggage with them before the check-in and after the check-out, if you're arriving early and departing late – there's no reason you should exhaust yourself by carrying all this extra weight.
He [and she!] who would travel happily must travel light.

Antoine de Saint-Exupery
I'm a big fan of this one since it's kind of the golden mean between paying just for the service and relying entirely on people to be nice. You'll be sharing an apartment with a host and can get a real insight into the local life. It's on Airbnb that I got to hear the most amazing stories I wouldn't have the chance to come across otherwise. Moreover, it's sometimes way cheaper than Booking.com. Another plus is that in many cases you get a full refund if you cancel before a certain point of time. The downside is, though, that the host can also reject your visit at any time, and you'll have to rebook. It happened to me just once, but make sure you select your hosts carefully.
If you love your private space – this one is for you. You most surely will get what you pay for. There's usually a lot of options to choose from, so you may rest assured that you'll find your perfect apartment with no need to share it with anybody. It's better to book in advance to get a better deal and the reviews are quite helpful. There may be an option to choose breakfast for an extra cost – see for yourself. In some countries, such as Israel, it's a huge plus since the food there is quite expensive, but in, for example, Italy you most surely can eat out a lot at most exquisite cafés – no need to bother with a hotel breakfast. One thing to remember, though – never book a transfer from the airport with your host – you'll be overpaying.
It's similar to the previous option but is dedicated to those looking for budget options. You can, in fact, find the same accommodation on both Booking.com and Hostelworld.com, but the prices will be lower on the latter one. So one more time, check at least a few websites before you actually book.
The experience with this one can be the trickiest but at the same time the most remarkable and indeed memorable. You ask people to host you for a couple of days in exchange for…just your amazing personality and some old good stories. You have to fill in the information to have a full profile so that people could actually trust you're a real person, but even then, many won't be accepting your requests for numerous reasons. It's good for spontaneous kind of travel, but may be problematic if you love planning ahead. The trick is to send a request just before your arrival (1-2 days ahead) and mention that you have no other option where to stay – my host once admitted this was the only reason he agreed to have us 🙂  You don't have to become a host yourself to be able to use this platform, but you always can.
Travel Planning: WHAT'S WITH THE BUDGET?
You may have noticed flight prices skyrocketed right before the outbreak when a lot of people were trying to get home. However, the airlines have to get their carriers up and flying again, so with a good amount of patience or with Aiwander help you'll be able to find decently priced routes. Check out the video by Brock who hacked the Airwander flight search to get the cheapest (and most convenient!) flights possible. Apart from the flight tickets, there's a bunch of things you would want to know the price of before heading out into the unknown.
1. Do you need (to pay for) a visa?
Apply for it in advance and note down the price. If the payment is due on arrival, check out if there's a way to get the best out it and combine visa with sightseeing. For instance, if you're staying in Jordan (Middle East) for more than a few days and planning on visiting Petra (one of the new 7 Wonders of the World!), it's worth buying a Jordan Pass instead of just a visa.
2. How far is the airport?
This one is tricky. I came across it a few times that the city shuttle cost more than the flight tickets, but you can sometimes save on booking your seats in advance on the Internet/as a round trip. You may also try choosing the airports nearby your planned origin/destination city to see if you could have your cake and eat it – smaller & less popular airports do have less convenient departure times but the prices can be twice as low. Always look for the discounts, even if they won't always be looking for you.
3. What are your hotel expectations?
Accommodation can be one of the major expenses, or it can be non at all. They say sharing is caring, and it's also true about your budget. A private hotel suite may be expensive, but if you're willing to share a room or a bathroom with fellow travelers, you could stay for longer for the same amount of money. It's worth spending time to find the best offer, which may come with unexpected benefits – let's say an outdoor hot jacuzzi in Iceland or a rooftop veranda in Israel. And that's just my own experience 🙂
4. Keep up with the pace: Renting a car, taking a taxi, using public transport, hitchhiking or walking tours?
The thing about sharing is true about transportation as well. Think of how much you'd like to see during your vacation and if there's a chance you'll be coming back to the country see the rest. For example, renting a car means high flexibility and maximum personalization of your experience, but is also probably the most expensive way of getting around. However, in Iceland, it's cheaper to rent a car for a few days than take an airport shuttle round-trip and at least one bus tour.
Uber or taxi may cost a lot if you're planning to visit some remote locations. However, public transport may be of use, especially in European cities where everything is quite close to each other and the infrastructure is amazing. You can buy a day, a weekend, a week or a family ticket and save a fortune, and there are often discounts for students, so keep your ISIC card close.
If you're more of a spontaneous adventurer, hitchhiking is definitely a way to go, and you probably know about it a great deal more than I do 🙂 Just keep in mind that depending on the local culture it may be less popular or even forbidden on certain types of roads, so do your research before heading out into the middle of nowhere.
The last but not least, free walking tours are an incredible way to actually see and hear the city through the eyes of the locals. You can always leave if you have your own plans, and you decide for yourself how much you should pay. Just make sure you reserve your place in advance because some tours are astonishingly popular.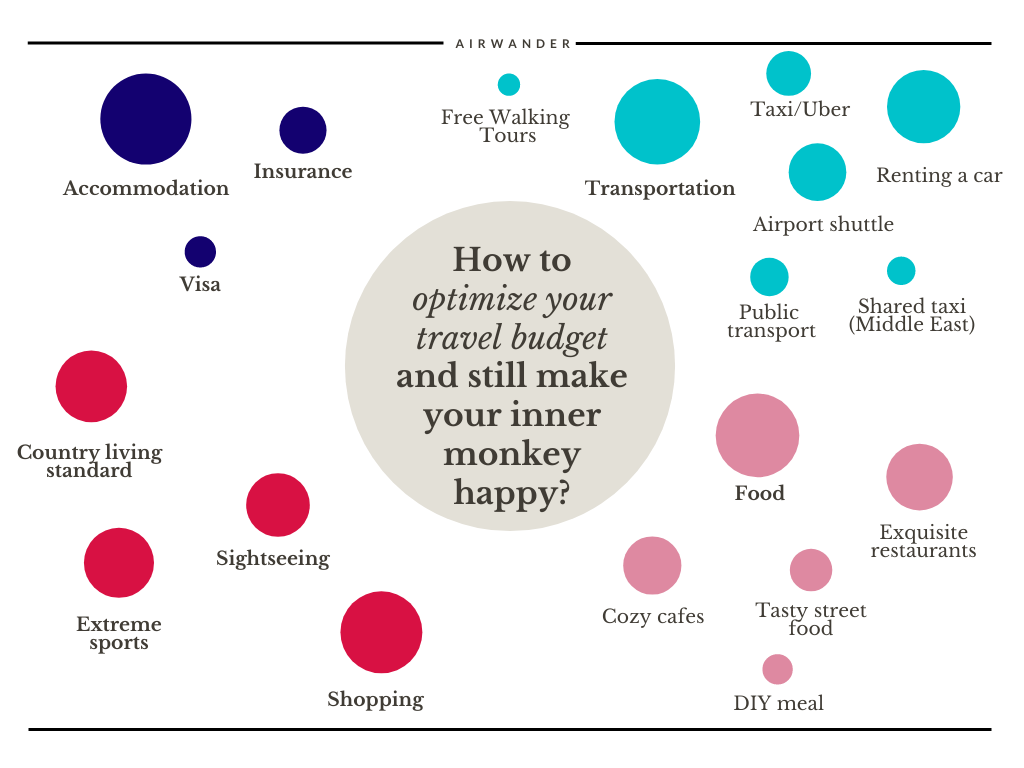 5. What kind of insurance do you need?
With uncertainty about everything, travel insurance is now more important than ever. First and foremost it's your health that matters, but when buying travel insurance, look for the one that also includes a refund for flight cancellation and accommodation reservation. For example, Croatia's new rules for non-EU nationals came into effect in just 24h. Also, some countries may have strange insurance requirements – Ukraine is open to citizens of any country, and those on the green list don't have to self-isolate. Nonetheless, on arrival, you have to present insurance with the term "COVID-19" explicitly written down, or you won't be able to enter. So make sure you know what you're up to, and don't let those cheap tickets cloud your judgement.
6. Sights to see & things to do: Choose your exploring mode!
You shouldn't have every single minute planned, this wouldn't probably differ much from your busy schedule at home. But have a look of what the city and the country have to offer to know if there're any major expenses you should take into account while planning your budget. We're talking here about volcano climbing (Etna on Sicily, Italy or Icelandic volcanos in general), parachute jumping, diving, rafting trips, visiting national parks and world-famous museums, and much more…
7. What kind of food makes your inner monkey happy?
Exquisite restaurants, cozy cafés, tasty street food or DIY meal – it's not only the price that decides but the unforgettable memories you get from trying out something previously unknown. Even if you do your research beforehand, you probably still won't know better than the locals, so ask them! On Free Tours, they often give out leaflets with places to find unique and affordable local cuisine or let you scan the QR code with points indicated on a map, or send you the email with a lot of useful info, or just give you honest piece of advice. In some countries like Georgia, you can ask practically anyone on the street and receive an overwhelming wave of hospitality along with all the info you need, no matter if they speak English or not really.
8. Country specialty: Have you checked out the living standard?
Here's a link to one of many websites where you can see how the prices for essential products & services differ from your home country. It's quite insightful for preparing the right amount of money. Also, find out if it's ok to pay with a card or if it's only cash that's accepted. If it's cash, note down the exchange rates and then compare them to what you see in exchange points not be fooled. As a rule, the rates on Google are better than what you get in exchange points, but there're some exceptions: in countries like Lebanon or Argentina, the official rate is much less appealing than the actual one you'll find on the streets.
9. Splitting the bill?
If you're traveling with a company, you probably have to adjust to some other people's wishes, but the memories you'll share will outweigh all the possible negative aspects. And it's cheaper, too – renting a car or a whole apartment will no longer be a burden. So, when it comes to a financial factor, here's a way to go about it – download an app for keeping track of your shared expenses and you'll have no worries over lost receipts and fleeting memory – you'll know exactly who paid for what.
---
Related articles
[/vc_column_text][/vc_column][/vc_row]