By Lauren
Are you addicted to travel?
Is your aim to see as much of the world as possible?
Do you have the flexibility to add an extra destination to your next trip?
Then read on!
For those of us who like a travel hack that will save us money and add some oomph to our travel experiences, there's a spanking new way to explore the world.
"Really?" I hear you cry. Yes there is.
All you need to do is create a series of one-way flights to multiple destinations to reach your final one. This may sound like a lot of work, but that's what Airwander is here for! We put in all the hard graft to find flights from multiple airlines to get you to your destination cheaper, but with extra bang for your buck!
London to New York via Reykjavik? No problem. Rome to Bangkok via Delhi? Go for it.
The world is your oyster!
Not sure where to stop off on your next flight?
How about our top 20 intercontinental stopover cities?
These cities are in our top 20 not only because they're awesome, full of culture and fun things to do, but because they were chosen by our users as the best destinations to stop on their way across the world. And there's more! Out of those most popular we selected the ones that allowed for cheapest flight connections.
Try adding those stopovers to your next trip, you may be able visit a new city for free and save on your flight!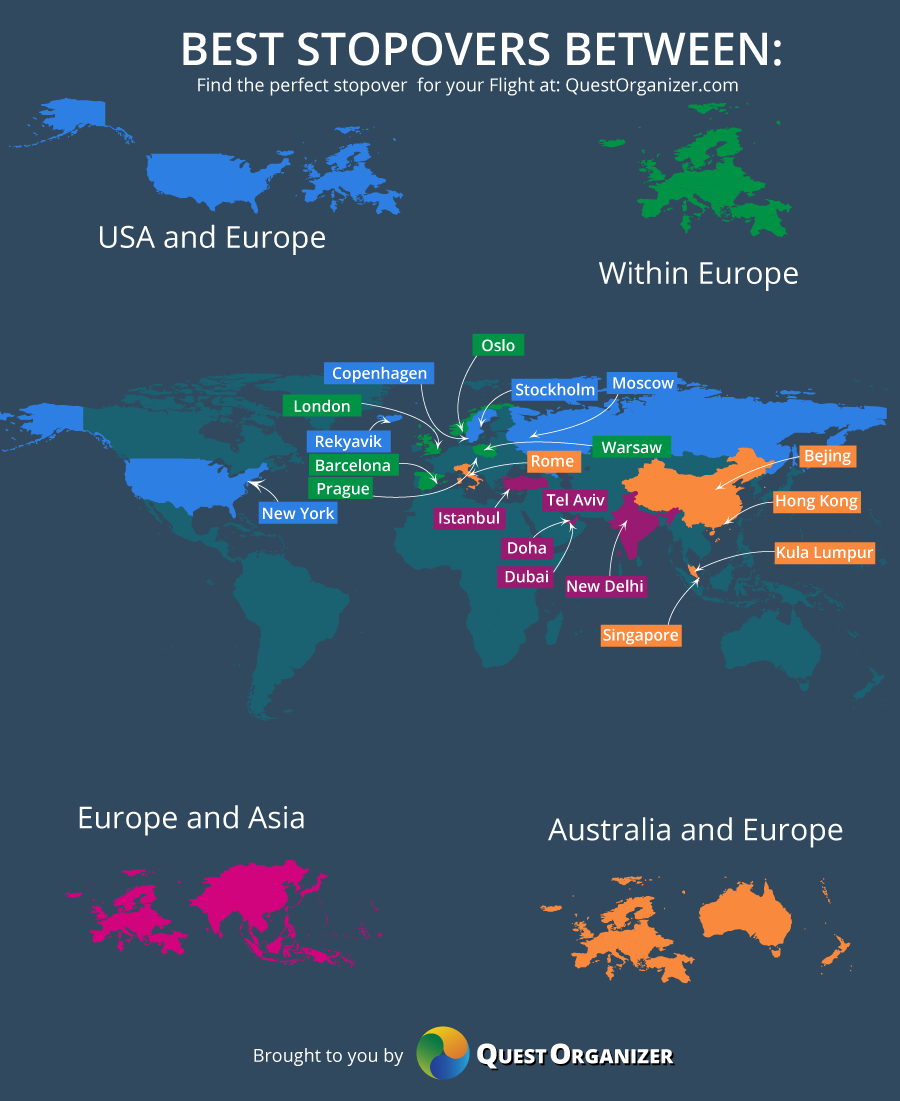 See the Top Stopovers Between
Travelling between the USA and Europe?
Our top five stopovers are…
St. Basil's Cathedral in Moscow. Photo by: Steve Jurvetson
Moscow
Well-heeled, elitist and chaotic, Moscow is a tumultuous ride that assaults both your body and soul. It's a layover that has some serious kicks for any culture buff – Kremlin, Red Square, Sanduny Baths, Bolshoi Theatre – the list is endless. Oh, and there's good vodka too.
Copenhagen
Full to the brim with cool individuals and a pumping bar scene, Copenhagen is fringed with classic Scandi architecture and stuffed with nine centuries of history. Spend an afternoon wandering around Christiania, Copenhagen's very own anarchistic community or hire a bike to glide from museum to gallery to gig. Copenhagen is the jewel in Scandinavia's already glittering crown and one not to be missed on any stopover!
Stockholm
Something of a fairy tale destination, Stockholm glistens with snow and sparkles with tinkle-lights in the winter and is reminiscent of something out of a child's picture book in the summer. Rows and rows of saffron coloured buildings bow in on cobbled streets and blue seas and even bluer skies hug the city's skyline year round.
New York
Times Square, the Empire State Building, Rockefeller Centre, Statue of Liberty, Staten Island Ferry, Coney Island, Brooklyn, Williamsburg Bridge, Soho, Chelsea Markets, the High Line. What better way to spend a stopover?
Reykjavik
Reykjavik is not only the world's most northerly capital but it sits on the edge of what could be Europe's answer to the final frontier. Isolated mountains and steaming geysers, crashing waterfalls and the Aurora Borealis herself. I rest my case.
Flying between Australia and Europe?
Stopover here
Marina Bay in Singapore. Photo by Mac Qin.
Singapore
Singapore has a habit of surprising you around every corner – you can go from the heavily scented streets of Little India to secret cocktail dens in the blink of an eye, from ancient, monkey swinging rainforests to cosmo central, to sleepy banana farms. The whole world exists on this tiny metropolis – make some room in your busy schedule.
Hong Kong
One of the world's largest financial hubs, Hong Kong has a reputation for chasing wealth and striving for eternal success. Despite this, it hides a traditional streak that needs to be explored. Whether you want to shop or explore the mountains and coast – there's something for everyone on a stopover to HK.
Beijing
Beijing is all about the food – the Chinese are obsessed with the stuff, and you should be too if you choose to spend a day or two here on your way to Europe or Australia. Restaurants pile on top of each other and there are so many local dishes to pick from that you'll just opt to eat them all.
Rome
Italy's capital and cultural beating heart, Rome should be at the top of everybody's bucket list. It's bursting with history and dripping with fresh gelato. It's a city that continues to surprise, time and time again, no matter how many times you return.
Kuala Lumpur
Your boots were made for walking in KL, as this city is best discovered by foot. Get caught up in the frustrating traffic jams, feel tiny next to the erupting sky scrapers and tingle your nostrils strolling through alleys of wafting street food before getting back on a plane to the other side of the world.
Stopover between Europe and Asia?
We recommend these top cities
Hagia Sophia in Istanbul. Photo by: Yonca Evren
Istanbul
Istanbul is the ultimate offbeat destination – the coming together of two continents in one glorious city means that there is a fusion of cultures and food, architecture and religion. Stroll past the city walls and gaze at the towering minarets before hopping back on a plane.
Tel Aviv
Miss out on a visit to Tel Aviv and you miss out on an exceptional strip of the world. Israel's second largest city is a slice of coastline that bathes in fresh coffee and lives life outdoors and to the max. It's easy to get into the swing of Tel Aviv and be totally drawn in by the innovative vibe – you'd be totally forgiven if you missed your next flight outta there.
Dubai
A city that seems like it's always in a constant state of flux, Dubai has an energy that builds with the time. From the Burj Al Arab to shopping in the Gold Souk, there is a healthy mix of both modern and traditional Arab culture. The perfect stopover for anyone, even the beach bums.
Delhi
Despite the traffic and the pollution and the intense population, there is something so overwhelmingly addictive about India. The food and the people and the enormity of the chaos just begs to drag you back, gagging for more. Delhi is no exception to this rule. Take the time to explore the unknown corners of Delhi, the time to eat in the places where there are only locals, the time to talk to the women ambling down the road in a sari, and you'll be rewarded with the greatest, unexpected few days on a stopover you could ever get.
Doha
With extravagant shopping malls, sandy beaches and a skyline to rival New York, Doha is arguably the Middle East's best place to stop on your way from one corner of the earth to the other. Qatar is a relaxing entry to the Arab world and will reward visitors with a deep heritage, rolling sand dunes and opulent wealth.
Multi City Europe Trip?
Visit these places
Park Guëll in Barcelona. Photo by: John Purvis
Barcelona
Barcelona is a city that has it all – you can go from the beach to the Picasso Museum in five minutes, be on top of the world in the Sagrada Familia or bathe in the shade of Park Guell. Spend your evenings in the city sipping rich red wine in the wonderful Catalonian sun before wandering around the Gothic Quarter at dusk.
London
Whether the weather be good or whether the weather be bad, there is always something to do and something to see in England's capital. Go for cocktails along the South Bank or visit the Imperial War Museum, people watch in Shoreditch or stuff your face in Camden. Buckingham Palace and Westminster Abbey, The Shard and Tower Bridge; it's impossible to get bored.
Prague
Magical, ancient and budget friendly. Prague is a city that demands to be explored – the winding alleys and river paths will all lead you to an unknown bar or seedy club that will make you put those dancing shoes on. Charles Bridge is, of course, the centre piece of Prague, but don't let it overshadow the rest of this gorgeous city.
Warsaw
Poland's answer to culture, action and all-out energy, Warsaw has built itself from the ground up to be a blend of old and new. The city is booming with industrial activity and is throwing itself towards the sky faster than Beijing. There's a busy nightlife schedule of music festivals and gallery openings, not to mention Poland's best museums. Warsaw doesn't cater to all tastes, but to those who are open to a positive, contagious vibe, it's worth your time.
Oslo
Oslo is Norway's perfect answer to its perfect landscape, mirrored by natural architecture and stunning art installations, it's obvious that Mother Nature herself inspired this beautiful city. Just minutes out of the heart of town are woodlands and hills, fjords and beaches – it's an outdoor lover's dream location. Within the city is a thriving bar and foodie culture, as well as some of Europe's best museums.
Alternative Stopover Cities
None of these take your fancy? Our new multi-city flight booking tool lets you choose the stopover of your choice. QuestOrganizer will automatically provide you with a list of the best stopovers you can choose for your flight but you can add any location you want!
The locations we recommend to you are rated from the cheapest, so the top one will always be your best option if you're solely looking to get more for less, or even to just save some dollah on flights so you can spend more on having fun when you arrive.
General rule of thumb? The more flexible you can be with your travels, the more cash you'll save! Found a layover that cut your costs? Let us know in the comments below!



Share this infographic on your blog by copying this html code: